Quiet Pet Birds: Loudest to Quietest
Pet birds have distinctive voices and can have a whole repertoire of whistles, chirps, chatters, shrieks and other sounds in their language. While budgies are generally the quietest pet birds, knowing which birds are loud and which are quiet can help you choose a feathered family member with just the level of outspokenness you prefer.
Why Birds Vocalize
Making noise is a natural, instinctive behavior for all birds, including pets. Birds communicate with a wide range of vocalizations, from twitters, chirps and chips to whistles and songs. Some birds can also mimic other noises, including ring tones, car horns, tools, other animals and even human speech.
Wild birds vocalize to woo mates, attract members of their flock to a food source, warn other birds of a nearby predator, claim territory or show their dominance in the flock. Pet birds may not need to vocalize for survival as wild birds do; however, they still use different noises to attract attention, alleviate stress and communicate with their flock, including their human flock members.
Loudest to Quietest Pet Birds
No matter why a bird makes noise, the vocal range and decibel level can vary with species and individuals. Just as some humans have naturally louder voices, some individual birds are also louder than others. Human speech and laughter are generally rated at 60–65 decibels. On the louder end of the sound spectrum, a jumbo jet taking off is roughly 140– 165 decibels, depending on how far away the listener is positioned. Pet bird sounds can also have an incredible decibel range. Decibels are used to compare the volume of pet bird chatter to other recognizable sound levels.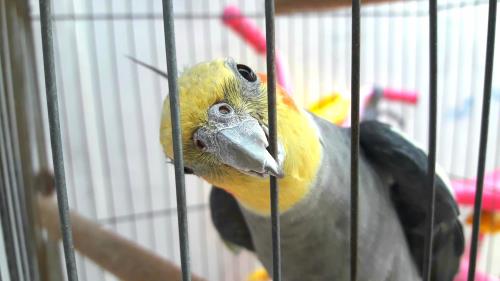 Cockatoos: The Loudest Pet Birds
While cockatoos are known for their affectionate natures, these medium-sized pet birds can be the loudest of the flock, with voices that reach up to 135 decibels with their chirps. In the wild, cockatoos use loud noises to contact other cockatoos and warn of danger, but as pets, these birds will be just as loud when they seek attention or are bored. These calls can come at any time throughout the day and may persist until the birds are pacified.
Conures: Beautiful but Loud
Conures are smaller, beautifully colored parrots, and their voices match their bright plumage. A conure's powerful voice can reach 120 decibels, though they usually start with softer chirping that builds in volume. These birds use louder noises to attract attention, so lots of bonding time is appreciated by these feathered friends. Male green cheek conures are quiet compared to sun conures, so their personality varies by species.
Macaws: Big Birds with Big Voices
Many people assume that macaws have the loudest voices because they are some of the largest pet birds, and it's true they can be very vocal. On the decibel scale, however, macaws' loudest calls only reach about 105 decibels or roughly the same volume as a snowmobile engine or rowdy sports event! In the wild, macaws love to make noise for 25–30 minutes in the morning and evening to contact other members of their flock, but pet macaws may chirp whenever they want attention. These intelligent birds can also learn to talk and mimic many other noises.
African Gray Parrots: Constant Chatterers
African grays are very intelligent birds that make popular pets because of their vocal abilities. While these birds aren't overly loud, they can talk and chatter throughout the day, often using human words or mimicking other noises at levels up to 70 decibels. This is only slightly louder than typical human talking or laughing, but it can still seem loud if the chatter never stops because these birds vocalize frequently.
Budgerigars: Quiet Companions
One of the most popular pet birds, the budgerigar — or budgie — is also one of the quietest. These birds do chirp and chatter, particularly in groups, but their voices only generally reach 65–70 decibels at their loudest. Budgies are even quieter as solo pets or when kept in pairs, but a group of budgies can still seem loud as they try to outdo one another, just as they would in the wild. Female budgerigars are generally quieter than males.
How to Quiet a Pet Bird
No matter how loud a bird's voice may be, it's sometimes desirable to quiet a feathered vocalist. First, avoid rewarding a bird's loud squawks or offering treats to keep a bird quiet — this only reinforces the unwanted behavior. Similarly, do not raise your voice to talk back, which the bird will interpret as more communication.

Instead, provide your bird a new chew or toy, which alleviates boredom leading to excess noise. A gentle mist bath can also calm a bird by encouraging it to preen rather than chatter. Keeping a regular feeding routine is another way to minimize louder "hungry" calls.

Finally, lowering nearby noises such as radio or television volume or closing a window if there are loud outdoor noises can quiet a noisy bird that competes with other sounds. If you gently whisper at your bird, you can also get its attention and lower its volume as it tries to listen and interact with you on the same vocal level.

No matter what type of pet bird you have, they are sure to make noise. This is natural, and birds have different volume levels and types of vocalizations. By understanding their language, you can choose a pet bird that best suits your auditory preferences, and you will better know how to communicate with your feathered friend.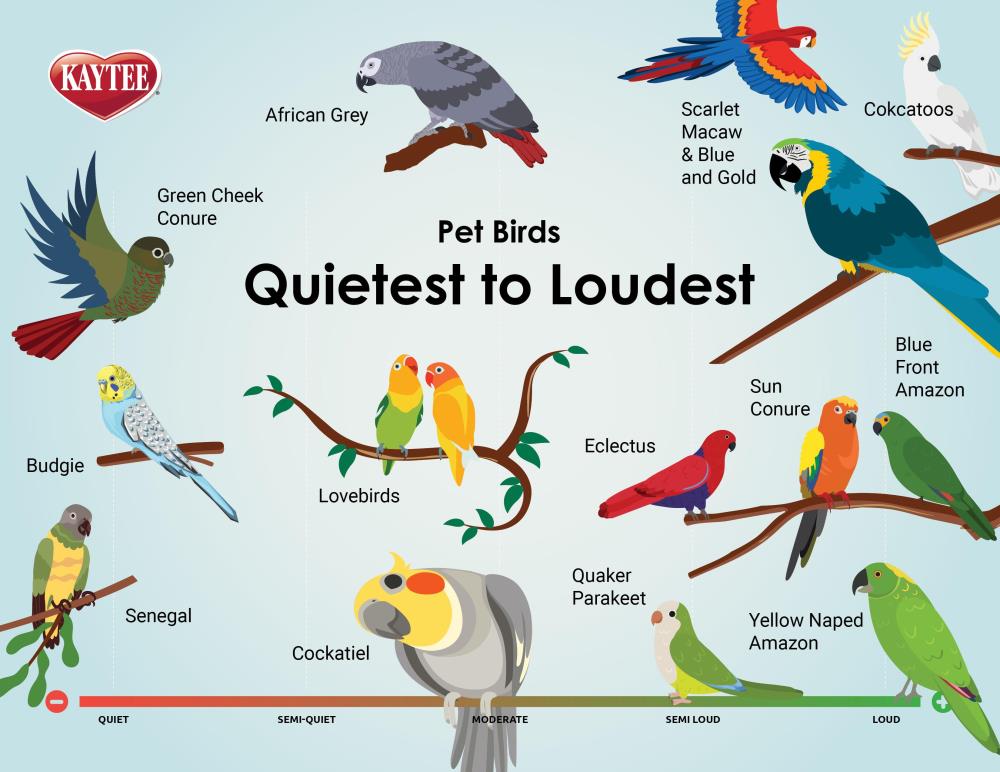 Resources:
Watching Backyard Birds — Why Do Birds Sing?
Bird Street Bistro — The 8 Loudest Parrots That Make Great Pets
West Coast Tropical Bird Studio — Which Birds Are the Most Noisy?
All About Parrots — Which Parrot Makes the Least Noise?