Are the colors in your products all natural?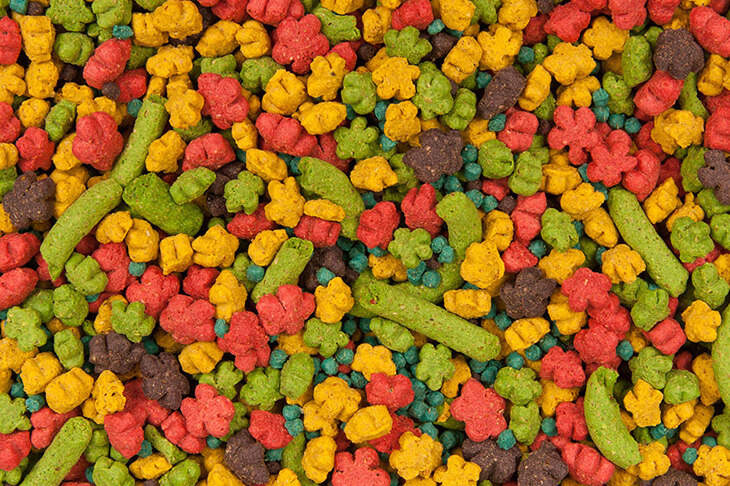 The colors used in the Kaytee products are not all natural. We use FDA approved colors that are approved for use in foods.
Coloring is used in certain situations to enhance the products appearance for both the consumer and pet. The colors used in Kaytee products are both U.S. FD&C and EU approved food grade certified colors (are not toxic or carcinogenic) or naturally occurring pigments. The levels used in the products are substantially less than that used in other products such as dog or cat foods, breakfast cereals, beverages, etc. These low levels have been proven to be safe in all foods.
Kaytee has adopted a special seed coloring process using state-of-the-art equipment. This current technology allows us to produce a much more vivid color with an even lower amount of coloring than was used previously. This coloring method is the same used to coat pharmaceutical tablets and confectioneries such as M&M candies. Even though the color is brighter, there is actually less coloring being applied.
Extruded foods are colored by mixing small amounts of aqueous dye into the product at the beginning of the cooking process. This allows efficient dye penetration and creates a uniform and controllable color of the finished product.
Other companies use a variety of different methods to color their product. Some of these older techniques, if not properly controlled, may result in the temporary growth of bacteria and/or molds. If these are allowed, it is possible that they will excrete certain toxins, which may have an effect on birds, especially chicks. These same toxins however, may also be present on any ingredient used in the food if proper storage conditions are not maintained or if the quality control of incoming ingredients is not effective. This is just one facet of producing a quality, healthful product.
In conclusion, the percentage of the colored ingredients in the food is frequently only a small portion of the total diet, therefore actual consumption of coloring agents is almost negligible. If you have any questions regarding this information or any of Kaytee's products, please visit the Contact Us web page.