Why Kaytee Hay Is Best for your Pet
When it comes to purchasing hay for your rabbit, guinea pig, chinchilla, or other small animal, you may think all hays are alike. However, that is not the case. Whether choosing a Timothy Hay, Alfalfa Hay, or hay with tasty inclusions, Kaytee hay offers your pet the most premium quality.
Here at Kaytee we do not take hay for granted. Below are just some of the ways we ensure your small pet receives the best!
1. Kaytee hay is grown in an ideal ecological location
Our fertile farmlands are graced with ideal temperatures and optimal hours of sun. That is why Kaytee hay is green and lush! When hay fields receive too much sun and too high temperatures, that results in brown hay. When it comes to watering our fields, Kaytee hay is irrigated with Rocky Mountain water for that fresh, pure touch.
2. Quality Checks Ensure Supreme Grade Hay
Here at Kaytee, we are picky about our hay and conduct tests to make sure we provide our customers and their furry friends the highest quality available. To do so, we conduct both visual and analytical tests to "grade" hay. Visual tests evaluate the appearance, structure, and purity of hay. Appearance should be fresh and green, the hay structure should be thick and long with little dust, with little foreign material. Analytical tests work to ensure we are providing pets the nutrition they deserve. Our team of animal nutritionists complete a guaranteed analysis to determine fiber, protein, moisture, and fat content. Kaytee does not accept hay that doesn't meet our standards when tested because your pet deserves the best!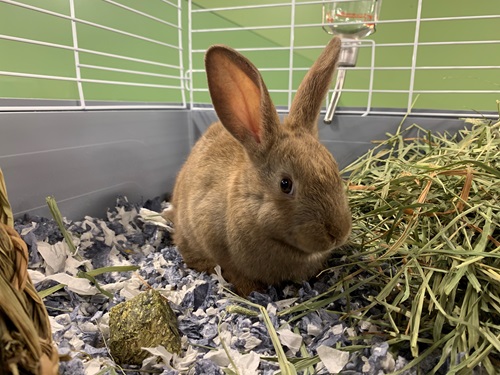 3. Hand Selected and Handled with Care
Before our hay gets to your hands and to your pet, it is routinely inspected. We keep close relationships with our farmers, and they are committed to providing supreme grade hay for your small pets. At Kaytee, our fields are routinely inspected from planting to harvesting to ensure our hay crop is the very best with that fresh, sweet smell, long and hardy stems, and the soft hay heads your pet loves. Hay is a natural product which means there can be some variation and occasionally fines or dust. However, we work to reduce dust and fines to give you an easy to feed and less messy experience. These quality checkpoints are not only done in the field, but also throughout the process from bale core samples to packaged, ready to go inspections. Unlike other hay brands, Kaytee hay is stored in a protected environment to help control moisture levels, ensure consistent quality, and maintain peak freshness.
4. Kaytee, your Trusted Small Animal Brand
For over 150 years, Kaytee's focus has been on giving pet parents the best nutrition and care. Continuing to operate from Midwest roots in Chilton, Wisconsin, our industry leadership inspires us to bring you quality products, provide unmatched service, and create innovative solutions. Kaytee is committed to the comfort and safety of your small animal. All Kaytee products are backed by our satisfaction guarantee. If you are not completely satisfied with a product, we promise to refund your purchase. Here at Kaytee, we are confident you will love our products.