Premium Timothy Hay Treats

The nutritional benefits of fresh all-natural Timothy Hay made into a delicious long-lasting treat! Did you know, chewing Timothy Hay Treats will help trim down your small animals' constantly growing teeth so they have proper dental health? Using only honey and no added sugar, Kaytee Premium Treats are the guilt-free reward for your small animal as they combine dental support with enrichment and activity. Your small animal will fall in love with all varieties of 100% edible Timothy Premium Hay Treat: Kaytee Premium Timothy Chips, Kaytee Premium Timothy Shapes, Kaytee Premium Timothy Roll 'n' Toss, Kaytee Premium Timothy Chew-A-Bowl and Kaytee Premium Timothy Hideouts available in Small and Large!

Treats are the ideal way to support bonding between small animals and their caregivers. With the main ingredient of America's Favorite Timothy Hay, small animal won't realize how nutritious their Kaytee Premium Timothy treat is because it is so delicious. Add flavor variety by offering the Premium Timothy Roll 'n' Toss with additional grains and veggies or the Premium Timothy Chips with yummy carrot pieces your small animal will crave!

Let's Learn More About Each of These New Treats:

Kaytee Premium Timothy Shapes O'Hay have three tasty shapes: heart, star and burst. All shapes are ideal for Rabbits, Guinea Pigs and Chinchillas can be fed up to one shape per day. Try placing these delicious shapes on a Kaytee Small Animal Ka-Bob Chew Dispenser Toy to pair them with your favorite Kaytee Crisps and Chews along with fresh fruit and veggies in your small animal's habitat! But please remember to dispose of all fruits and vegetables before they spoil.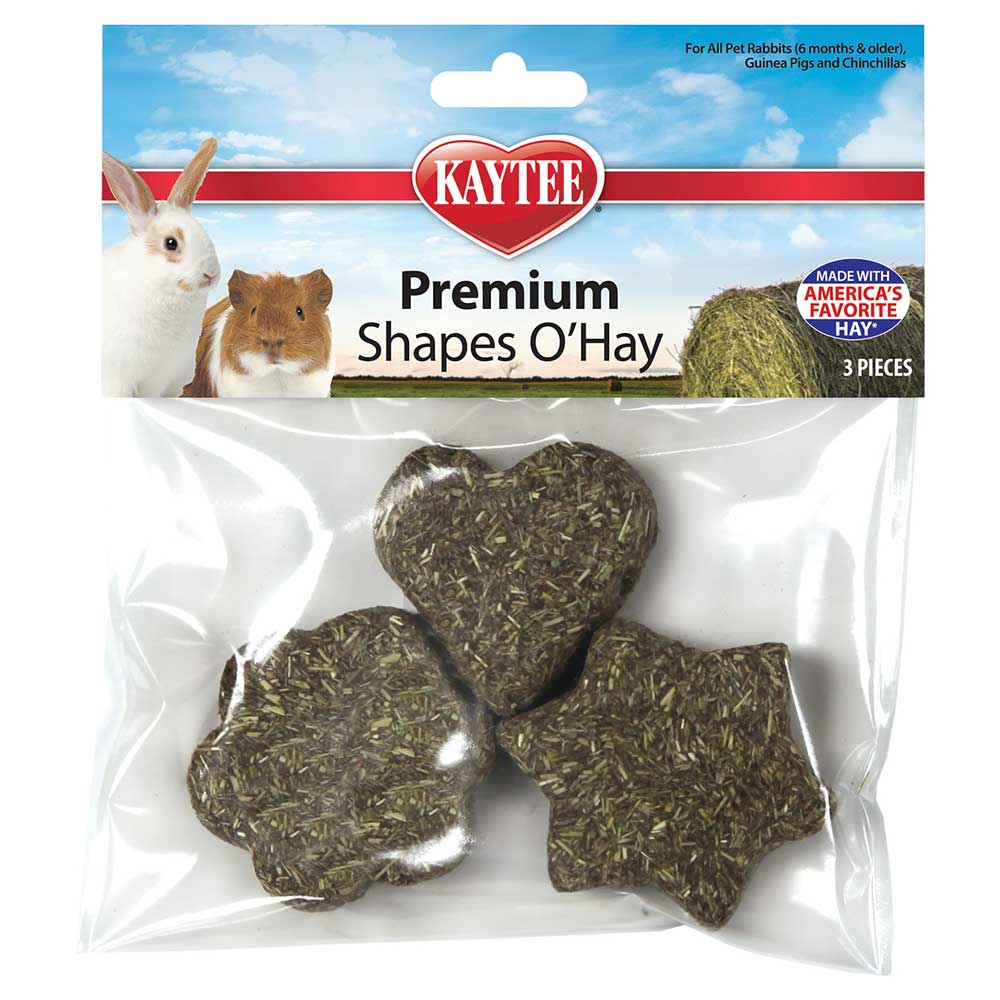 Kaytee Premium Timothy Roll 'n' Toss is the perfect 2 in 1 toy and treat combo which keeps your small animal moving and rewards them in every bite! The Roll 'n' Toss is ideal for all Pet Rabbits, Guinea Pigs and Chinchilla. Try giving your small animal one and see how long it takes them to get the yummy center. You'll have a blast watching your pet nudge the ball with their nose and chase after the delicious timothy hay, grains and vegetables.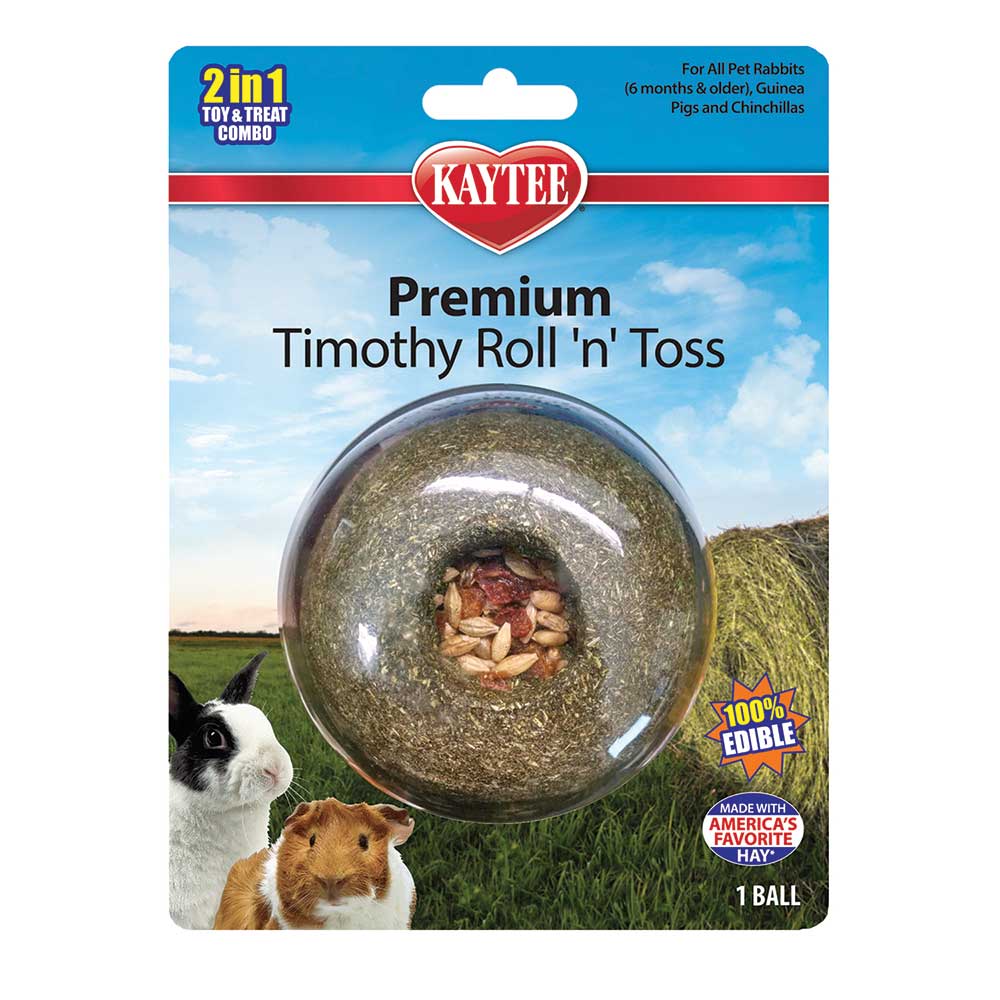 Kaytee Premium Timothy Chew-A-Bowl is our first ever completely edible food dish! All you need to do is add any one of your favorite Kaytee fortified food such as Timothy Complete and Food From The Wild to keep your small animal's appetite satisfied for hours. The Chew-A-Bowl is ideal for all Pet Rabbits, Guinea Pigs and Chinchillas. Just remember, replace if soiled and do not add water!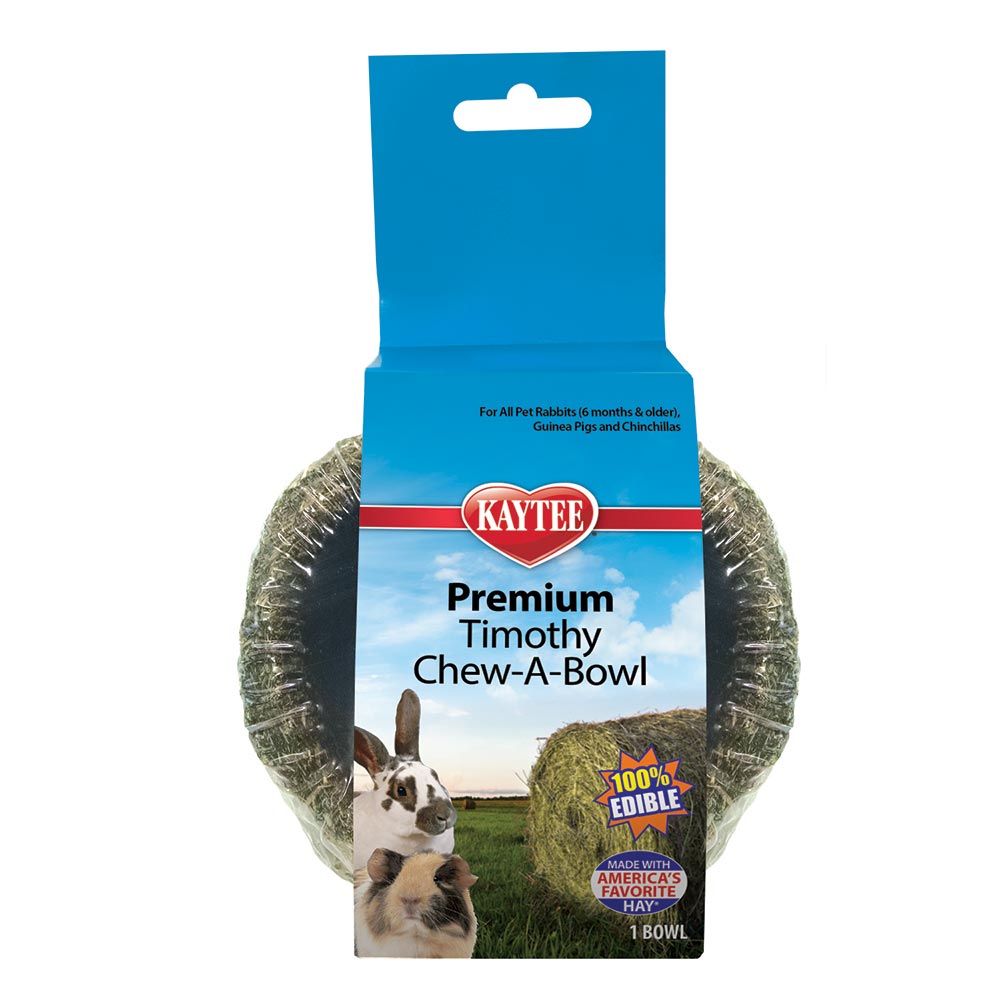 Kaytee Premium Timothy Hideouts is a 100% edible chew, treat and hideout combination that your small animal will love. Watch them play peek-a-boo as they pop in and out of the top while chewing away at the delicious Timothy Hay. Available in Small & Large, it is perfect for all small animals from Hamsters and Mice to Rabbits and Guinea Pigs. Just check the packaging to make sure you are purchasing the appropriate size!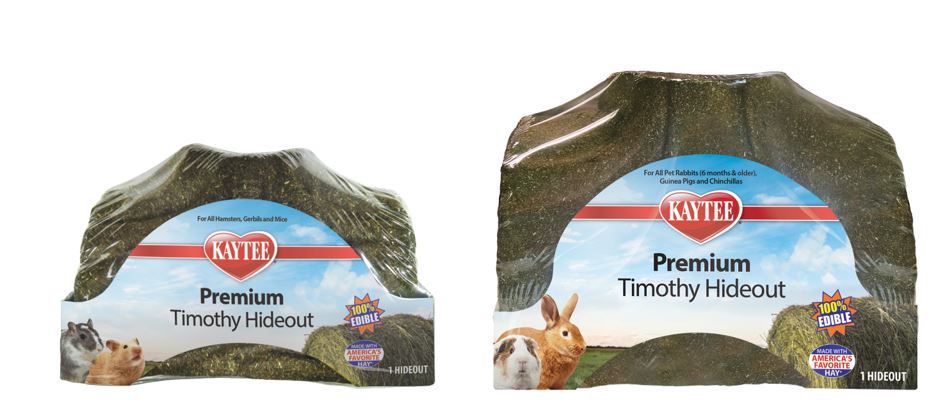 Treat your small animals to these new treats by visiting your local pet store. Just look for our heart on the package to keep your small animal at the heart of your healthy, happy home! To learn more, visit us at our blog!