DIY Thanksgiving Wreath for Wild Birds & Squirrels
Thanksgiving is a time to gather and be grateful for friends and family. Many Americans celebrate this holiday by getting stuffed with traditional food like turkey, mashed potatoes, and pumpkin pie. While we're warm and cozy inside enjoying seconds of Grandma's famous cranberry sauce, the birds want food too! This Thanksgiving wreath is a great way to decorate for this holiday when you're hosting everyone this year and feed the birds at the same time! Get your DIY fix with this fun craft that both your dinner guests and feathered friends will enjoy.
November bird feeding is a transition month for many backyard birders. Migrating birds are passing through on their journey or leaving from yards for their trip south. New winter birds are settling in for the season and finding coverage from the elements among evergreens, shrubs, and birdhouses. The weather turns cooler freezing unheated bird baths. The importance of running, heated water is high during these cold months as birds need to hydrate and finding water is a challenge. One way to attract more birds to your yard is to put out more food, feeders, and water during these months when natural resources are low. This Thanksgiving wreath bird feeder is a great way to include holiday décor while providing extra seed for the birds.
Get started with our easy, step-by-step instructions for this DIY Thanksgiving wreath bird feeder.
Step 1: Gather all the supplies and ingredients
Items you'll need:
● Wooden letters that spell out T-H-A-N-K-S. Wooden letters can be found at a craft store.
● Kaytee Bird Seed - Choose a seed that fits with your region to attract November birds in your area. Explore all the bird food options on our website.
● Kaytee Corn on the Cob
● Peanut butter
● String or twine
● Wreath made from sticks or other brush. This can be found at a home décor store or repurpose a wreath you have left over from old decorations.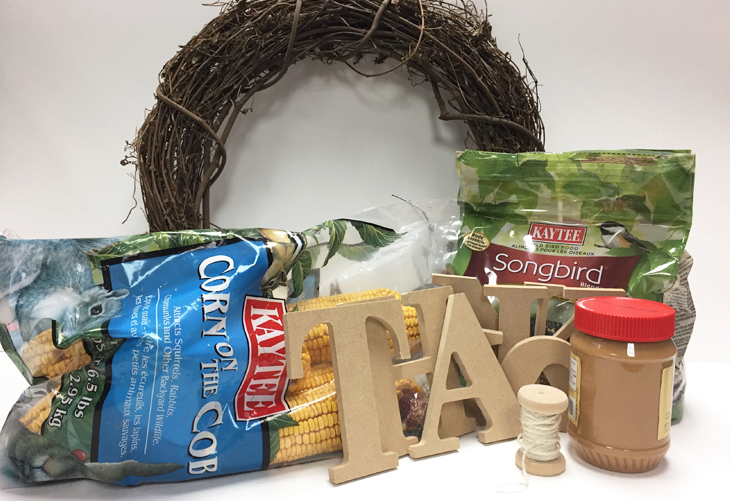 Step 2: Measure out needed number of cobs
Measure out how many corn cobs fit on your wreath and space them out how you'd like it to look before starting the wreath. By doing this, you'll have the exact amount needed depending on the size of wreath you've picked.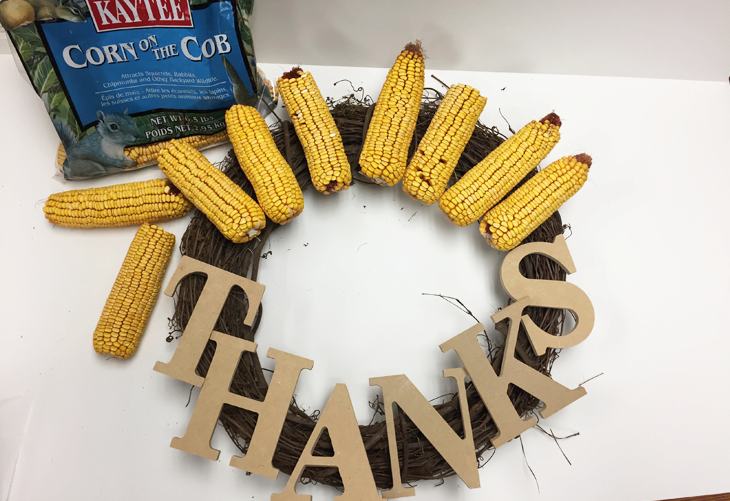 Step 3: Tie the cobs to the wreath
Wrap the string around each corn cob and the wreath to secure them in place. Tie the string into a knot and cut off the extra string or tie it into a bow in the front. Do this for every cob that you measured out in step 2. Set aside to work on the letters.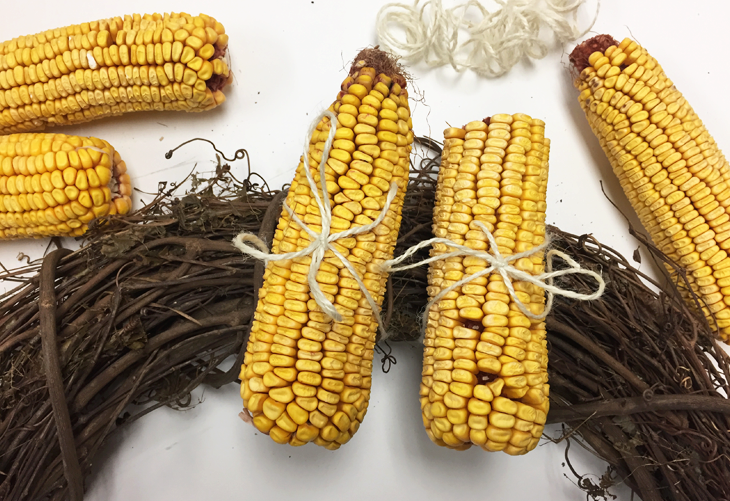 Step 4: Cover in peanut butter and place seeds on the letters
Carefully, using a knife or a spatula, spread peanut butter on the front of each letter. Spread it about a quarter inch thick. Place the seeds on a plate and flip over each letter, dunking it into the seeds and covering all the peanut butter with Kaytee bird seed. Add seeds using your hands, one by one if needed, to fill in any gaps where you can still see peanut butter. Do this for every letter before tying them onto the wreath.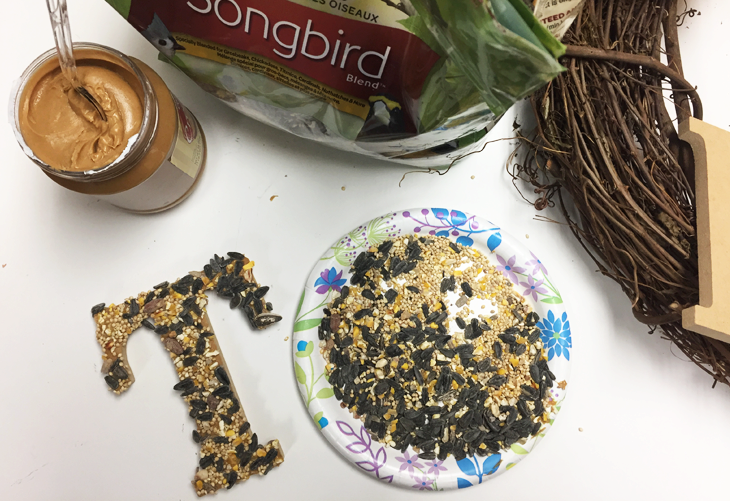 Step 5: Tie the letters to the wreath
Tie each of the peanut butter and birdseed-covered letters on to the wreath. Similar to the cobs, pull the string from the back of the wreath and wrap around both the wreath and the letters to secure them in place. Tie at the front, cutting off any extra string or tying a bow. You might need to slide the cobs up or down depending on spacing once all the items are secured on the wreath.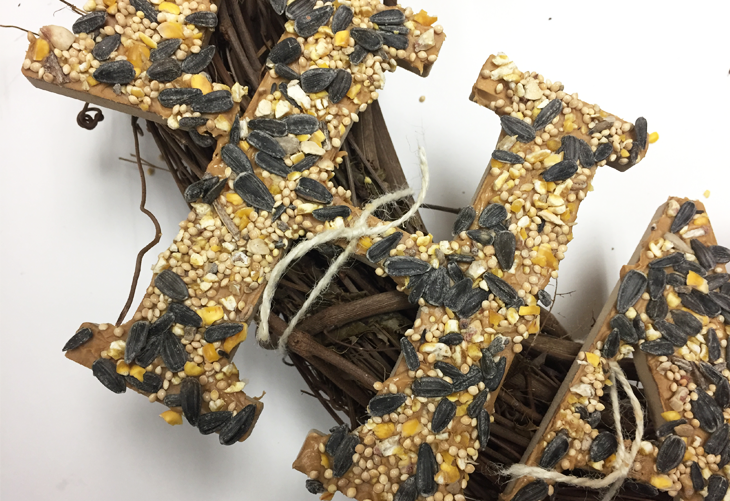 Step 6: Bring your wreath outside
Place your wreath in your yard or carefully hang it where the birds can easily access it. Show off your crafty DIY skills to your neighbors and watch as your feathered friends help themselves to the seeds and corn.