Ultimate Birder's Gift Guide
Birders in your life are easy to buy gifts for thanks to their entertaining hobby. As a backyard birder, there's an abundance of supplies and activities to buy as a thoughtful gift. Use Kaytee's ultimate gift guide as inspiration when shopping for your dad for Father's Day, your sister for her birthday, or your grandpa over the holidays!
GIFTS YOU CAN WRAP
Binoculars
Backyard birders and traveling birders alike both need the right tools to see their fast-moving feathered friends. A new set of binoculars is thoughtful and generous, and gives the continued gift of forever spotting beautiful birds.
Bird-themed clothing or trinkets
Tasteful bird-themed items can be the perfect gift. Try shopping for bird neck ties, ornaments, artwork, jewelry, calendars, or coffee mugs. Some birders love birds so much they want them all over their house in the form of décor, too!
A mounted and framed bird picture they've taken
Make it personal and have a photo they've captured made into a custom print or canvas. Frame it and present it as a thoughtful gift to display in their home.
Birding books
Get your loved one a bird book they can enjoy about their favorite hobby. Books like National Geographic's A Field Guide to the Birds of North America or Kingbird Highway's The Biggest Year in the Life of an Extreme Birder are two great options.
Explore other favorite birding books here.
A new camera
Birders love capturing their quick-flying friends whether traveling or in their own backyards. A new camera with a fast shutter speed is a great gift to enhance their hobby.
Sunglasses
As birding is often an outdoor hobby, get your friend or family member a new pair of quality sunglasses that they can use to better see birds on sunny days.
Water fountain
As birders know, running water attracts birds. Get your loved one a fountain or water feature for their yard to enhance their birding experience.
GIFTS THAT KEEP GIVING
Audubon membership
Giving the gift of an annual membership helps your birding friend gain access to their local birding community. They'll have access to events, receive Audubon's magazine, and provide support in protecting the birds.
Recording of bird noises
The Cornell Lab of Ornithology manages the Macaulay Library. It offers audio recordings of bird species to help birders learn common calls.
Get the library subscription gift here
. They can go out and listen for the new sounds they've learned and enjoy your gift for many years to come.
Donation to a bird rescue fund
Find a local cause or a national organization and donate in their name. There are many ways to give back to the birds.
GIFTS YOU CAN EXPERIENCE
National parks pass
America's national parks are stunning and full of unbelievable bird watching. As an educational experience,
gift your friend a pass that gets them into the national parks for a year
.
Do-it-yourself crafts
Get artsy and make a custom bird seed wreath for your loved one. A handmade craft shows the time and effort put into make them happy.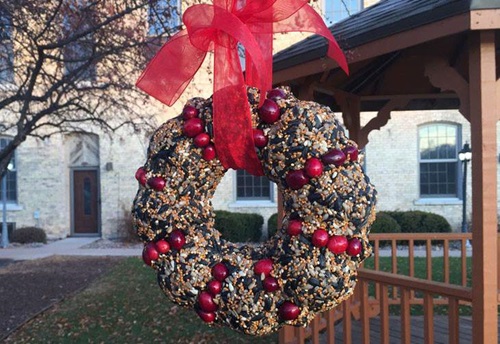 Bird feeders and seed
This gift is both wrapable and provides a fun experience! Once they open it, it becomes an exciting activity to watch the birds flock to the seed in their yard. Explore seeds by region or pick seed based on their favorite species.
These gifts are sure to please the birder in your life. Get creative and customize a gift, or play it safe with a new bag of seed and a feeder. Any gift you give will be likely be received with gratitude.