DIY Halloween Costume Ideas for your Pet 

Halloween is the time of year when kids trick-or-treat, adults dress up in extravagant costumes, and pumpkin spice can be found in everything, everywhere. Make sure your pets are part of the fun, too! As you know, you can't share your trick-or-treating goodies with your small animal, so we've put together five DIY pet costumes instead. Whether you have a bunny or guinea pig, a rat or mouse, these costumes will bring extra smiles this Halloween.
Holidays can get pricey after you've bought costumes for all your kids and restocked the candy bowl multiple times, don't leave your pets out because of the cost! These DIY costumes can be made with items you likely have around the house, like scissors, a white t-shirt, and more.


After you eat all the candy meant for trick-or-treaters, try these do-it-yourself costumes that will spook and delight.

1. Pumpkin Pet Costume
Items Needed: Dry erase marker and

Run-About Ball


How to Make this Pet Costume: Doodle your favorite design – in this case, a pumpkin jack-o-lantern face, using the dry erase marker. Other design ideas include a soccer ball, a spider web, or a scary zombie face. Keep the marker on the outside of the ball and out of reach of your pet. Please note that depending on the marker you use, the design may not wash off the ball easily…but when you have an adorable pumpkin, why would you want to erase it?


2. Bunny Beanie Baby

Costume
Items Needed: Printer, String, Scissors, and your

Comfort Harness & Stretchy Leash


How to Make this Pet Costume: Print an image of the Beanie Babies "TY" tag. Cut out the image using the scissors. Hole-punch the tag and pull the string through the hole. Place the string loosely around your pet's harness. Make sure to never place a tight string around your animal's neck or body. Admire your living Beanie Baby and watch the Instagram likes come rolling in.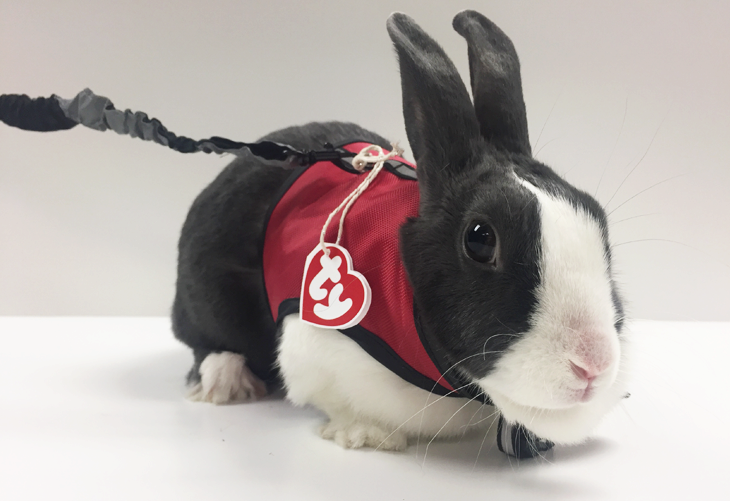 3. Ghost Boo Buddy

Pet Costume
Items Needed: Old White T-shirt and Scissors
How to Make this Pet Costume: Use the scissors to cut out three holes matching the shape of your pet's face. Cut eye holes so they can see and a nose/mouth hole so they can easily breathe. Your pets will look boo-tiful!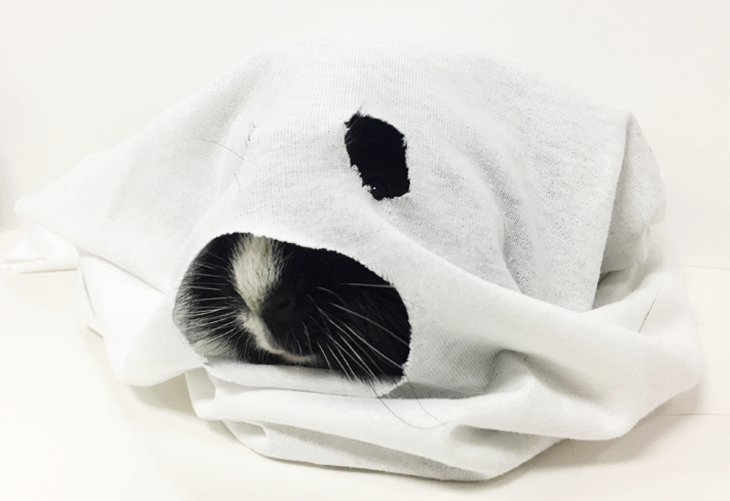 4. Wee Little Witch

Pet Costume
Items Needed: Re-purposed Store-Bought Décor
How to Make this Pet Costume: If you're not the crafty type, this is your best bet. Re-purpose old holiday décor, or when shopping clearance holiday decorations, look for miniature versions, which are perfect for pets. Use items like baby sunglasses for a Pet on Vacation costume, a mini hat for a Wee Little Witch costume, or if needed, a store-bought costume made for your species of animal.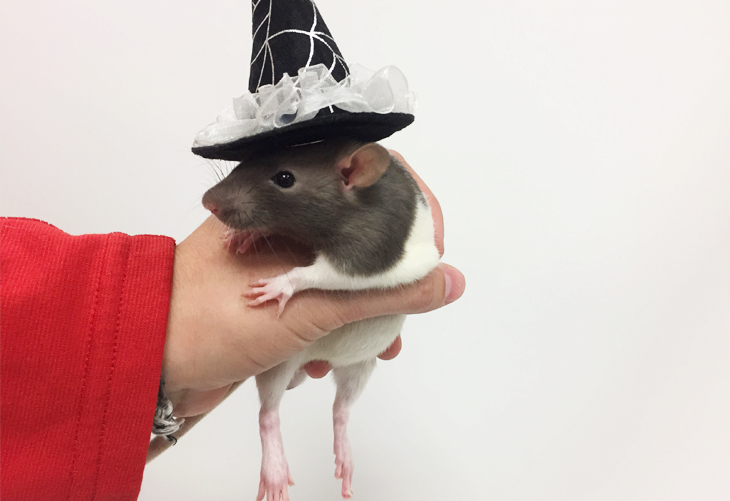 5. Furry Football

Pet Costume
Items Needed: White Felt and Scissors
How to Make this Pet Costume: Use the scissors to cut out the white felt into the shape of football laces. Place the laces on the fur of your little critter. Take one million cute pictures of your sporty little cavy.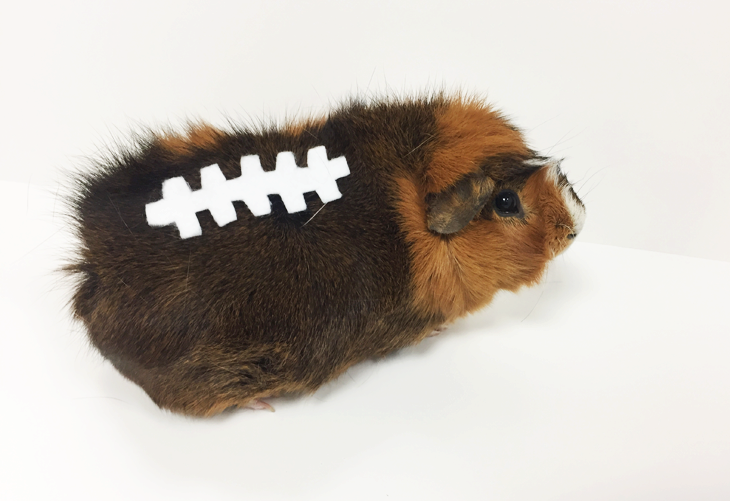 For more DIY projects and cute Halloween pet pictures,

Sign up for our Newsletter

or like us on Facebook.
Please remember, animals are not toys. Not all animals enjoy being in costumes. Never force your pet to wear or do anything they do not want to do. Watch your pet carefully the entire time they are wearing their costume. Do not keep your pet in their costume for extended periods of time. Keep your animal safe and healthy by monitoring their behavior and watching for signs of distress.