Kicking off Summer with Activities for Your Kids and Your Pet
Whether your kids are counting down the days to summer break from school or you're pining for those longer warm-weather evenings, your pets are ready to spend them with you! So, why not kick off the summer together? The kids will love the creativity and playtime, you'll cherish the bonding moments, and your pets, well, they simply love it all!
Decorate the Pet's Home
You're not alone in loving a little refresh around the house. Why not do it for your tiny fluffy friend too? Work together with the kids to make some cute adornments for the exterior of the pet's habitat like a chain of colorful paper links, braided dandelions, or even summer-themed stickers! Just be sure to put the decorations out of reach of the pet, which might be around the base of the habitat, or above the rooftop.
Build a Climbing Center
Hamsters, gerbils, mice, and most pets love to show off their agility by going, up, up, up! Can you build a
treehouse from wooden popsicle sticks
for your pet to explore? Or, carefully stack and arrange
Big Branch Bites
and
Kaytee Apple Orchard Sticks
using the bars of the habitat for support to create a funky ladder. As a perk, these wooden structures are also safe for your pet to chew. When building tall structures, be safe to not create any dangerous drop zones.
Match Your Pet Day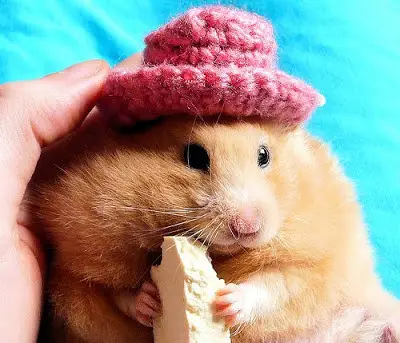 image by: mrbunndini.blogspot.com
Dig out the costumes and be twinsies with your small animal. Does your guinea pig have a bowtie or pet dress to wear? Find your best matching ensemble and wear it proudly. You can also check out these
DIY ideas
to turn your piggie into a football (and you could dress as the quarterback or cheerleader!) or hamster into a pumpkin. All you need is a little orange and you'll be two pumpkins in a patch! For more dress-up inspo, get ready to squeal at these
tiny hamsters wearing tiny clothes
.
Play a Summer Game
Challenge your pet to sniff through an obstacle course or have a running race with a pet sibling (from inside the safe confines of a
Kaytee Giant Run-About Exercise Ball
, of course!). You could also combo the two games and let the pet maneuver a maze of obstacles while running in the ball! Simply set up toys from his or her cage to strategically roll around and you're sure to pique your pet's curiosity.
Summer days call for extra play! Why not make it with your favorite furry family member and enjoy the time together? Here's to getting creative, making memories, and snapping cute pics with your pets this season.