Whether your pets were naughty or nice this year, they deserve some extra love around the holidays. You receive wish lists from your kids, friends, and significant others, but because those cute little guinea pig paws can't hold a pencil, we prepared the ultimate pet holiday wish list to give you some ideas.

While your bunny can't email you links and your bird can't text you pictures of a gift, that doesn't mean they won't get excited when you come home with new toys, treats, and more when the holidays roll around.

Read This Complete Pet Wish List (and Check it Twice!)

Toys

This is the most obvious choice for any pet parent. Pets and kids alike love new toys. New toys are perfect around the holiday season when you're home for extra days and have more time to spend with your pet. Use toys as a training aid or to help you bond with your pet.

Ka-Bob Chews and Dispenser - This toy provides entertainment while secretly being good for their teeth as they chew. Guinea pigs and bunnies love it!

Mini Nut Knot - We're "knot" joking, this wooden toy is great for your furry friends to toss around and chew.

Exercise Balls - Your gerbils, mice, and hamsters have energy to burn and an exercise ball is a great way to let your pets run around outside their habitat while protecting them from household elements. Make sure to get the right size for your pet.
Exercise Wheel – Provide your pet a safe and healthy way to stay active inside their habitat. Exercise wheels allow your pet gerbil, mouse, hamster and more the ability to run while inside their home. Similar to exercise balls, it is important to choose the right size for your pet.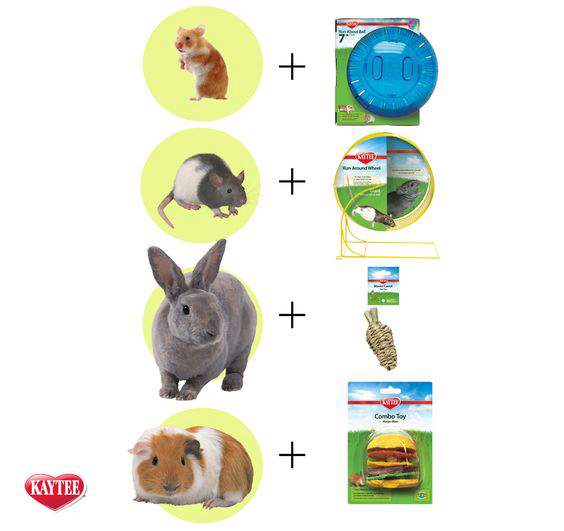 Treats
Timothy Biscuits – Made with timothy hay and apples or carrots, these biscuit shaped snacks are great for rabbits, guinea pigs, chinchillas and more. Just listen for the guinea pig wheeks after you open this bag!

Food from the Wild Natural Snack – Give your pets some extra love this holiday season while staying healthy by getting them this mix to snack on. Made with a limited number of whole ingredients, this premium medley is crafted to bring the variety nature intended to your pet's diet. Available for all types of small animals, this snack is available in two versions, one best for rabbits, guinea pigs and chinchillas, and one for hamsters and gerbils.
Superfood Treat Stick – Kaytee® Treat Stick with Superfoods adds a nutritious punch for a guilt-free snacking experience. Available in two superfood varieties, one with strawberry and flax and one with spinach and kale, both provide a fun way to add healthy and tasty enrichment to your pet's diet.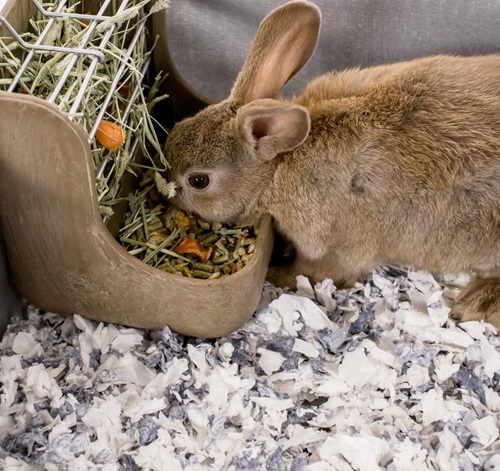 Habitat Accessories
Tree of Life - This three-in-one accessory is a fun hideout and exercise accessory. Hamsters, gerbils, or mice will explore the comfort of a cozy nook inside the tree and then come out to run on the wheel.

Hay & Food Bin Feeder- Provide your small pet with a clean supply of both food and hay. This combo feeder has a compartment for hay and a separate compartment for food. The Feeder can be hung securely anywhere in your pet's cage using the included carabiner clips. This keeps your pet's food and hay fresh and clean by keeping it off the floor.
Super Sleeper Fuzz-E-Floor- This fuzzy sleeper provides cozy comfort for your pets in their home or some extra padding for their habitat floor. Hang it in a habitat for a hammock-like feel, or lay it flat for your pets to stretch out and lounge on it.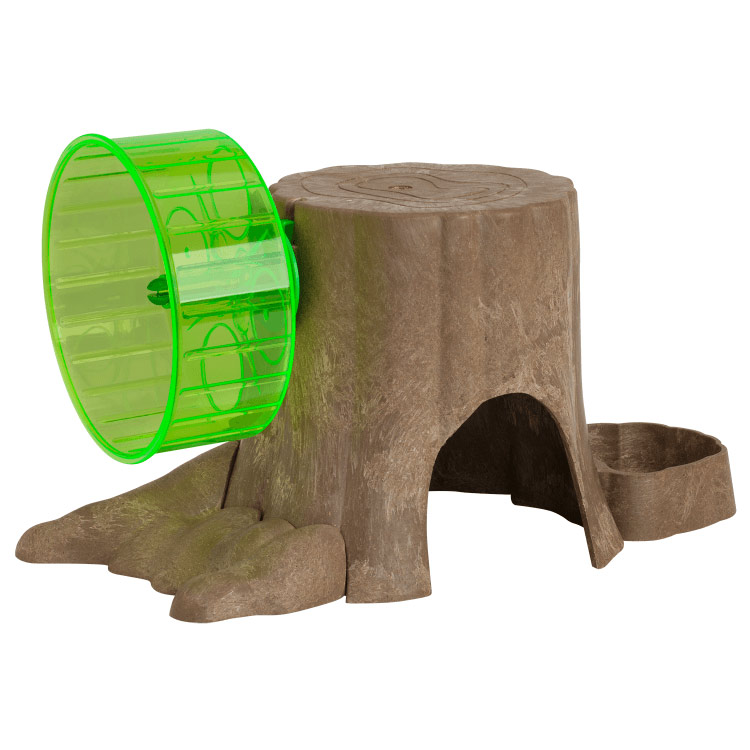 Travel Accessories
A Harness and Leash
- Traveling around this holiday season with your pets is much easier if you have the right accessories. This harness and leash combo ensures your pet will look great and stay safe near you when in unfamiliar homes like grandma's house.

Come Along Carrier
- This carrier makes your life easier when bringing your pet along for holiday travel so neither of you will miss out on any festivities. Use it for guinea pigs, hamsters, or other small animals.
CritterTrail® Carry & Go Habitat
- This carrier is your hamster's mobile home. They'll be safe and secure when making that trip to meet Santa. This cage can also connect to other CritterTrail® expandable habitats to create an add-on room when not in use as a carrier by using CritterTrail® Fun-nel Tubes.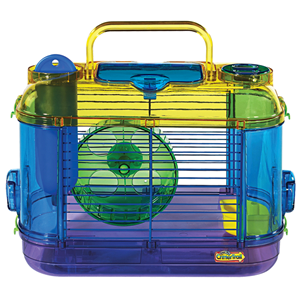 Bedding
Bedding doesn't have to be boring. Clean & Cozy™ bedding comes in white, natural, fun colors, and even fresh scents. Try them all to change up the look of your pet's habitat. All Clean & Cozy bedding is super soft and absorbs 6x its weight in liquid, plus it's 99.9% dust free for a clean habitat your pet will love!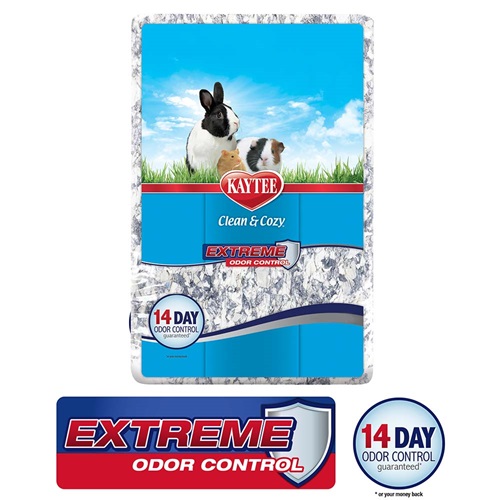 Find these wish list items for your pets at your favorite retailer or when online shopping. Your small animal will love you for spreading holiday love and cheer.