Snow Day Activities to Enjoy with Your Pet

Snow is falling and winter is in full force. Luckily for pet parents, furry friends provide loving companionship so you're not lonely on those snowed-in days. While you might be stuck inside, there is still fun to be had! Try these snow day activities with your pet for some wintertime fun.

There are many ways you can interact with your small animal! These activities provide entertainment, bonding time, and even some new tricks.

Teach your Pet a Clever Trick
Use winter downtime together to teach your pet something. There are many resources available on how to train your pet, like this Bunny Training 101. The key to training a pet is positive reinforcement. With proper training, pets can be well behaved and interactive.

Groom your Pet
Small animals have special grooming needs. Their nails need to be trimmed and their hair requires unique care, to name a few. Take the time to brush your guinea pig or pet rabbit. Refill your chinchilla's dust bath so they can groom themselves, or clip your pet's nails…only if you know how. If you are inexperienced in grooming your pet, bring them to a professional pet groomer to ensure they are safe and well cared for.


Play a Game
Keep your pet entertained with a fun game. Pets can be engaging and fun when you provide them with stimulating activities. This extra attention will keep your pet happy and provide bonding time. Pre-made games are available for pets, like the Toss & Learn Carrot Game. Your pet bunnies, guinea pigs, or other small animals will be enthused as they try to get the treats from the game. Enriching playtime is important for the health of your pet.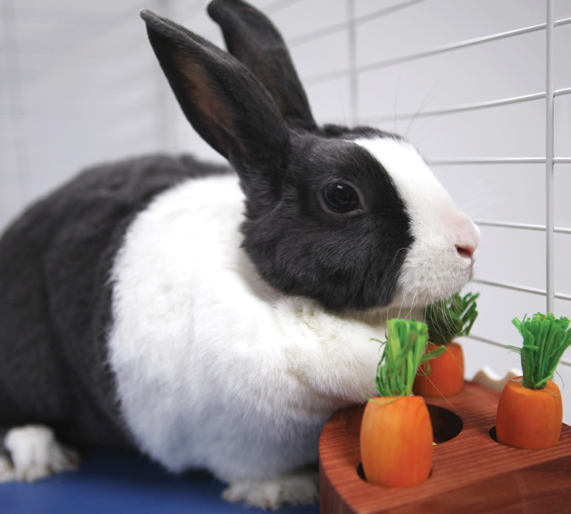 Create a DIY treat
Pets love treats! You can hear the "wheek" of your guinea pig the second they hear their treat bag crinkle. Switch up their treats this season by adding fun or incorporating treats into one of their toys. Get creative when you're stuck inside on your snow day!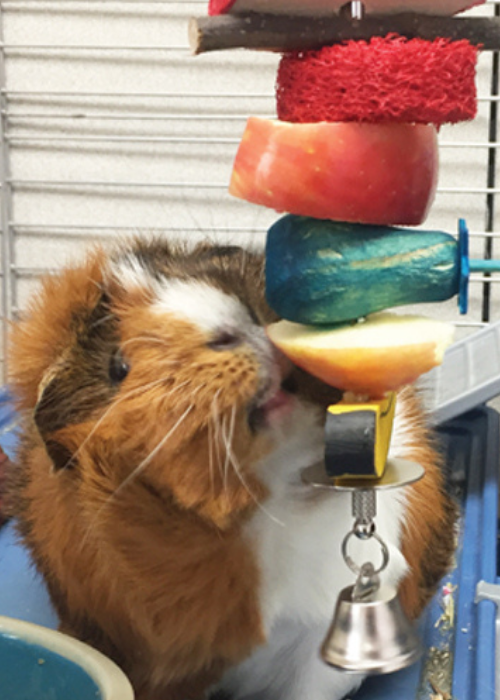 Build a DIY Kabob Treat
like the one above made for Winnie. He got to chew on his kabob and get apples as a treat. Please remember to keep all treats and snacks to a minimum so that your pets are healthy. Do not feed your pets food that is not safe for their species.
Clean their Habitat
Take the time to deep clean your pet's habitat. Changing the bedding, cleaning out the litter, and washing out food dishes are regular duties. But on the next snowy day inside, take apart the habitat. Doing a deep clean is important to keep your pet healthy since their habitat is what protects them from elements around the house. It should be cleaned like you would clean your own home. While the cleaning isn't the most fun activity for you, this is a great time for your pets to get out-of-habitat time. They can enjoy exploring in their run-about ball or run around in their play pen fencing. Time outside their habitat is stimulating as they are more active and entertained.
Create a Customized Habitat
When you have a whole weekend stuck inside from the winter weather, you'll have lots of quality time with your small animal. After cleaning their habitat and while your pet is enjoying safe out of habitat playtime, it is the perfect time to change things up in your pet's habitat. This could be as simple as moving around a habitat, trying a new bedding like Kaytee® Extreme Odor, or connecting habitats to give your pet more space to roam. For hamsters and gerbils, try connecting multiple Kaytee CritterTrail® habitats using the CritterTrail® Wide Fun-nel Tube. Your pet hamster or gerbil will love the extra space and the new burrowing and tunneling adventures. To add habitat space for your pet rabbit or guinea pigs, try connecting multiple Kaytee® Open Living™ habitats. Thelma and Louise love their expanded home!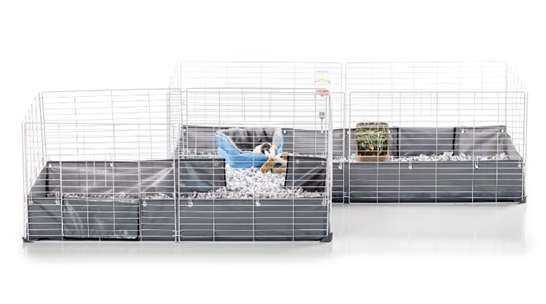 Snuggle and Watch a Movie About Animals
If winter hibernation is more your style, we recommend quality pet snuggles. Binge-watch your favorite show with your pet while you cuddle on the couch. Small animals love to be comfortable, so this Super Sleeper Cuddle-E-Cup is a great option.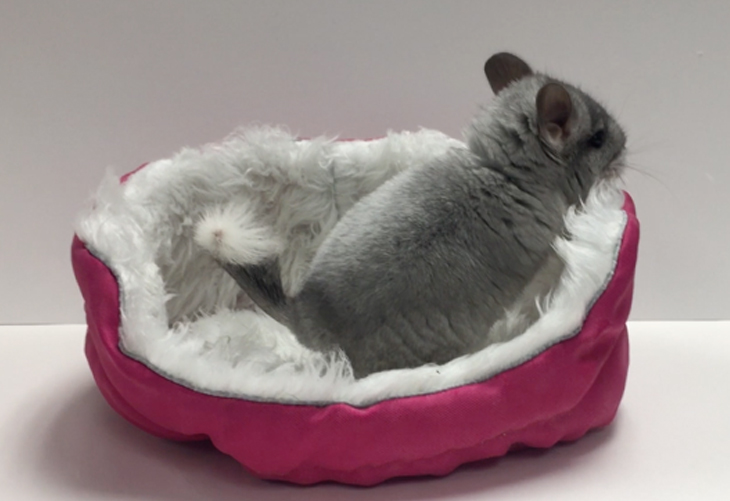 No matter how you decide to spend your winter days at home, make sure you spend time with your pets. They deserve all the love and happiness! Whether you have a hamster, guinea pig, rabbit or other small animal, they will be entertained and enriched from these activities. And, let's be honest, they are too cute to say "no" to. Share pictures of you and your pet enjoying a fun day together on our Facebook page.